Watts Up With That?
Dr. Roger Pielke Jr. sends word of this via email. I'm a bit amused, but not surprised, as we know WUWT has been pushing the traditional media envelope, and we often tackle subjects they can't or won't. I liked this statement about skeptical blogs:
They serve as extended peer communities as put forth by post-normal science, however, blog users themselves do not see post-normal science as a desirable goal.
She's got that right. Just wait til she sees what is coming up next. – Anthony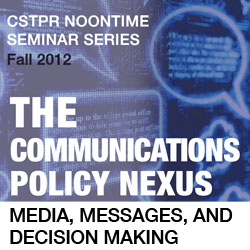 CSTPR Noontime Seminar
Fall 2012 Series
Thursdays 12:00 – 1:00 PM
The Communications-Policy Nexus
Media, messages, and decision making
* Tuesday September 11, 2012

THE CONTRARIAN DISCOURSE IN THE BLOGOSPHERE: WHAT ARE BLOGS GOOD FOR ANYWAY?
by Franziska Hollender, Institute for Social Studies of Science, University of Vienna
CSTPR Conference Room, 1333 Grandview Avenue
Free and open to the public
View original post 260 more words